New build property – is it a good investment?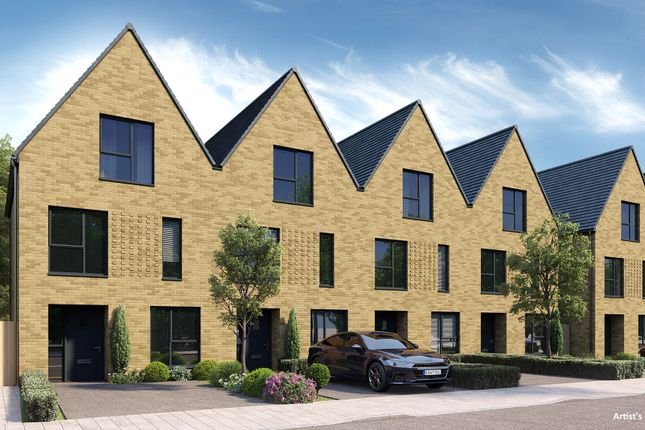 A new build property can make a great buy-to-let investment. Modern décor, energy efficiency, and new build warranties are just a few reasons why some investors prefer this investment approach. Yet other investors feel better returns can be generated by investing in older properties. In this article, we will outline the pros and cons of investing in completed property straight from the developer.
Before we start, it is important to note that we are only talking about completed property, which is ready to be lived in immediately. This excludes off-plan properties which have yet to be built. We start by taking a look at the main benefits.
Advantages of new build property
Fit for purpose. A new property has been built to modern standards with all the regulations passed. An older property, in contrast, may need to be inspected, to ensure that it is legally up to standard for the rental market.
Ready to be tenanted. A new home comes with fresh tiling, paintwork, kitchens, bathrooms and new carpets. With furniture aside, this means there should be very little, if anything, you need to do to it. You simply buy your furniture pack and your tenant can rent it from day one. This differs from an old property which may need quite a bit of decoration. Depending on the standard of an older property you may need to refurbish the kitchen or bathroom and this adds up.
Desirability. Prospective tenants like the idea of a new home. They are likely to pay a premium for it. Furthermore, you can pick your choice of tenant. This may contrast to an older property where you will just get the market rate.
Incentives. Some developers will give incentives to complete a sale. This could mean contributing to stamp duty or covering the cost of your conveyancing.
Energy-efficient home. Whilst you won't be paying the bills direct, your prospective tenant will know that a modern home will save them a lot from their bills. This translates into them being prepared to pay a premium for the rent.
Modern living. New builds have a modern style and feel. There may also be some extra amenities which are built into the development. This improves comfortability which should translate into longer lets, saving you on void periods.
Warranties. All new builds come with a warranty. This is great for the investor as there are no maintenance issues in the first couple of years. The structural guarantee means your property is insured against any major works for at least 10 years.
Chain-free. As you'll be the first owner, you won't have a chain of buyers which form part of the sale. When buying older property, it is probably part of a chain. This can cause issues as if someone falls out of the chain, your property deal might not go through.
Disadvantages of a new build
New home premium. Some of the benefits of buying a new build disappear on the day you buy it as it is no longer "brand new". This means a one-year-old property may fall in value as buyers look at the new build which has never been lived in. With this in mind, flipping new build property is not the best strategy.
Lack of space. Many new build properties have limited space compared to some older style properties. The hardest hit is the bedroom size and storage space.
Management charges. Many newer apartments have more services and amenities compared to older style apartments. As an investor, you need to ensure that these extra amenities translate into better rental returns. Sometimes you can be emotive about these extra services and forget the bottom line. For new build houses, there is a rise in new build built estates. These properties can have extra costs attached to them, which are imposed by management companies.
Snags. Newly built property is not always plane sailing. There can be several snags and defects. Your new build warranty will cover any defects. However, it is important that someone can take ownership of any of these problems. This is why many reputable agents offer aftercare as part of the service when buying new build property. A professional team will be on hand to deal with any problems as they arise.
Difficult to add value. When you buy an older property that needs work done to it, there is an opportunity to add value by improving the property. With new build property, you lose the ability to create this extra value.

Which option is best?
As you can see, there are some pros and cons to buying completed property. If you are looking for a passive income, with not an active involvement in managing your property, this asset class could be for you.
However, if you are looking to maximise investment return, there may be better alternatives. For the more adventurous, the off-plan property can give you new property, but you get the advantage of a big discount on the market price. Alternatively, you can opt for older properties, where you can add value by refurbishing yourself. This leads us to your investment objective.
Investment objective
Before you buy an investment property you want to be certain of your investment objective. Ask yourself am I investing for income, for growth, or a mixture of both? What is my attitude to risk? Do I require mortgage finance? If so how will this impact me? At Esper Wealth our primary objective is to guide you in the right direction, to help you achieve your investment goals. If you would like advice on investment planning, please contact us as we will be happy to help.
Factors to consider
Regardless of your approach, there are still important factors to consider which can help you increase profitability.
Location, location, location
Investors in the UK property market have heard this cliché countless times. Yet the location is one of the most important factors to consider when looking into an investment property. It is important to locate areas which have a high-income yield and great growth prospects. A great place to start is to focus on northern cities, close to the city centre, with inward investment and regeneration initiatives.
Taxation
With investment property, you pay an extra 3% surcharge on stamp duty. This affects investors' bottom line. It is usually advisable to keep stamp duty as low as possible. Many investors do this by opting for lower value properties.
Since 2016 there has been a rule change concerning buy-to-let mortgage interest tax relief. We suggest all investors read about this, as it can impact your bottom line. Many investors have now decided to invest via a limited company. We have included some useful information on the advantages of buying property through a limited company. If you decide that investing through a limited company is right for you we have included some useful information about this process.
Mortgage finance
Many people fund an investment property through mortgage finance. Buy-to-let mortgages work on different criteria and are subject to higher rates. You can find information on the key details here. This is important, as it will help you to understand how best to use mortgage finance to tie in with your investment objectives.
Furnishing my investment property
Last but not least is devising a strategy for furnishing. For this you may want to read our article titled, should I furnish my investment property? This will help you decide whether investing in furniture is right for you. If you decide to furnish you may think about investing in a furniture pack for your investment property. In this article, we look at the pros and cons of doing so.
We have also included some pro tips on how to furnish your investment property to maximise its yield. There are some quick wins included with advice on colour schemes to improve marketability. This doesn't cost much but can improve your return on investment.
Professional tips
As a property investment company, we work for you. Our job is to listen to you and guide you to achieve your goals. We want you to feel comfortable in the investment process, in the belief that we are delivering the best advice. With this in mind, it is important to remember three things:
Never feel pressured. Many property sales companies work on urgency. This is the wrong approach. You should take the time to decide what is right for you and your family. If this means you miss a particular property then be rest assured another opportunity will arise.
Be transactional. This means trying not to be emotive about a property. Remember you are not living in it. Ask yourself, do the numbers work financially for me?
Ask yourself, what if? In life, we never know what is around the corner. Sometimes your circumstances can change. If things do change, how will it impact me? Whilst you can never legislate for all contingencies, it is advisable to invest with your eyes open.
If you are interested in looking for new build properties direct from the developer you can find our latest offerings here.