How much does a new home save on energy bills?
With the cost of the energy crisis, a home's energy efficiency rating is becoming a more important consideration for homebuyers. We take a look at how much a new home could save homebuyers on their energy bills. We then ask if paying a new home premium is worthwhile from an investment perspective.
Homebuyer sentiment
With rising energy costs, Frank Knight conducted a survey to establish how important a consideration energy costs are for homebuyers. Their findings concluded that for 80% of buyers energy efficiency ratings have become a more important consideration.
The key reasons listed for this change in sentiment was primarily due rising energy costs. Though the environmental aspect is also important consideration. "High profile events such as COP26 have kept the issue of climate change in the public's consciousness. When you combine that with spiking energy prices it is no surprise that homebuyers are increasingly paying attention to energy performance," said Chris Druce, senior research analyst at Knight Frank.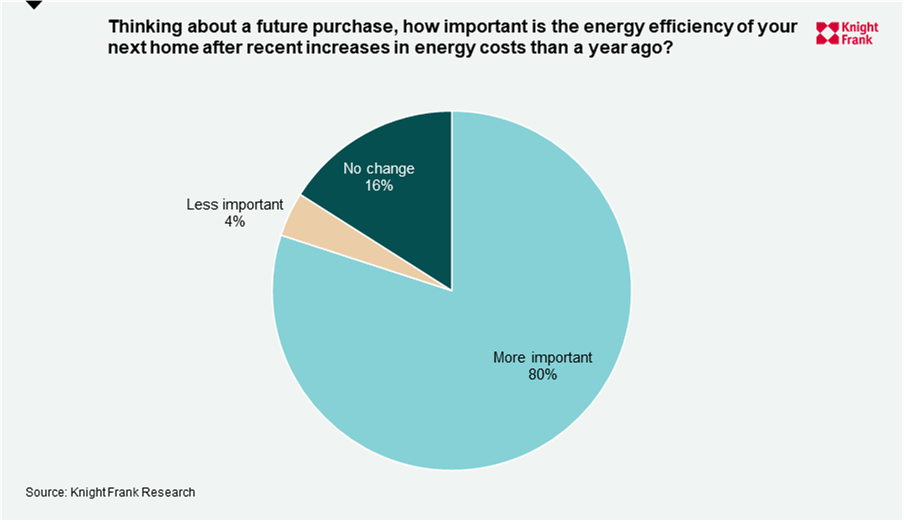 Charging points
Close to 40% of people considered that access to a charging point for an electric vehicle was more important in a home than it had been a year ago.
"Off-street parking and electric vehicle charging points are definitely becoming more important for home buyers. This will become more significant as we move towards 2030 when the government has said all new car sales must be electric," said Charles Davenport, head of Elmbridge at Knight Frank.
How much does a typical new home save on energy?
New research based on Government Energy Performance Certificate data has found that buyers of a new build house will typically save on average around £2,600 a year in energy bills. The report 'Watt a Save', published by Home Builders Federation (HBF), shows that in total, last year's new build purchasers are saving more than £500m a on annual energy bills.
New build homes emitting a third of the carbon compared to an older property. HBF has also asked lenders further motivate homebuyers to make energy efficient and money-saving purchases by factoring in energy bill savings into mortgage calculations.
Government analysis
Research conducted by the government concluded:
New build properties save an average of just over £2,000 per property each year, with the average annual running costs for a new build totalling £1,500. This is compared to an average of £3,570 for older properties. These savings rise to £2,600 a year when looking at new and old houses alone, rather than smaller properties such as flats or bungalows.
84% of new build homes were rated with an EPC of B or above, while less than 4% of existing dwellings reached the same standard.
New build properties significantly reduce households' energy usage, with the average new home using approximately 100 kWh per m2 per year compared with older properties which require an average of 259kWh per m2.
With energy costs continuing to rise this cost gap between and older and new home is set to rise further.
What is a new build premium?
New build properties typically command a higher price compared to existing properties of a similar size. This difference is called a new build premium. The difference between the two varies by over 20% and the gap is widening.
According to Zoopla, wew-build homes are selling for a premium of more than £65,000 compared with existing housing stock.
The average UK new home sold for £290,176, compared with a typical sales price of £224,729 for older properties, according to the latest figures from the Land Registry. The premium buyers pay for a new build home has increased by £5,000 during the past year.
Is a new-build premium worthwhile?
Whilst new-build properties trade at a premium to older properties they will save a buyer considerable amounts of money due to improved energy efficiency and less repairs and upkeep.
With an average savings of £2,600 on a new-build house compared to an older one, a person can expect to save more money from improved efficiency through a newbuild home.
However, most people would have to fund the additional costs of a new home premium through a mortgage. On a repayment basis over a 25-year term, the monthly costs would amount to £343 per month. This equates to £4,210 which is more than the savings made. Yet on an interest only basis for the loan the monthly costs are slightly cheaper at a rate of 4%. So overall you would save slightly more through a new build property.
Other savings from new build properties comes in the form of new build warranties. Usually, when you buy a new home you receive 10 years of cover against potentially costly structural problems. This cover can potentially save you several thousand pounds.
New initiatives
Whilst it may be more cost-effective to opt for a new home in the longer-term a buyer still needs secure a larger mortgage. This is difficult with rising rates coupled with high price values. This is why HBF is urging lenders and the Government to do more to ensure that consumers can benefit from the financial and environmental savings that the most energy efficient homes can offer.
Furthermore, HBF also wants the actual running costs of the property being purchased to be factored into mortgage affordability calculations. This would then allow homebuyers to opt for a new more energy efficient home.
Stewart Baseley, executive chairman of the HBF said; "The energy crisis is highlighting starkly the efficiency benefits and cost savings provided by new build homes. Energy efficiency is a growing priority for house hunters and the financial savings clearly demonstrate why. In the face of the cost-of-living crisis, we now need lenders to take these savings into account so that consumers can benefit further through cheaper mortgages."
Help to buy
For first time buyers, one benefit of purchasing a new home is that they are eligible to qualify for the help-to-buy scheme. This scheme allows first time buyers to get a 20% equity loan on their property outside of their mortgage. This helps with affordability. This equity stake can increase to 40% for homes in the greater London area. This loan is interest free for 5 years.
Alternative options
As part of the government's commitment to becoming carbon neutral by 2050, there are various options available to assist with improving your home's efficiency. The Green Deal is a government scheme that is designed to offer help and advice to improve your home's energy efficiency. Some of the options available include:
insulation, such as solid wall, cavity wall or loft insulation
heating
draught-proofing
double glazing
renewable energy generation, such as solar panels or heat pumps
The government is currently investing £12 billion in Help to Heat schemes. Many of these initiatives are free.