Exciting plans for Wythenshawe town centre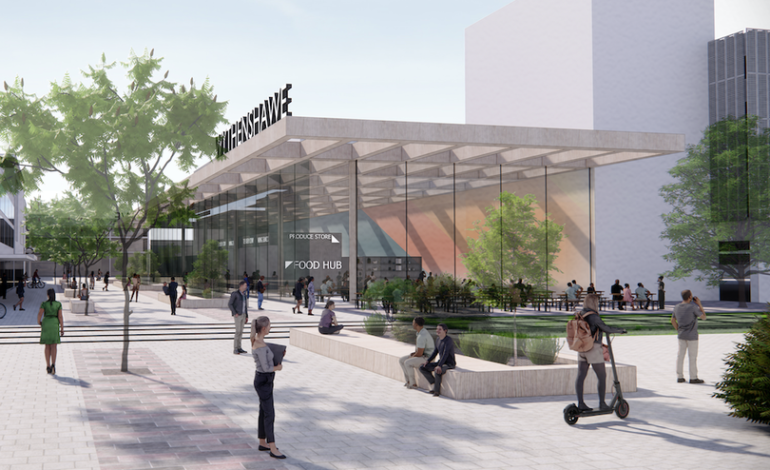 Following the City Council's purchase of Wythenshawe town centre, the government is asking for local input in its redevelopment plans.
Purchase of Wythenshawe town centre
On the 17th of October, Manchester City Council confirmed that it has acquired the long term lease. The City Council has purchased this from the previous owners and has recently completed the acquisition of the town centre from St. Modwen.
Manchester City Council states that this is the first step in revitalising the south Manchester suburb's fortunes.
Redevelopment plans
The goal for the redevelopment is threefold:
New homes. There are plans to build thousands of new homes. Many of these affordable new homes are built on existing Council-owned brownfield land.
Gentrification. Work will be undertaken to create 'a large new focal point for the local community in a new civic square that celebrates Wythenshawe's roots as a garden city. This involves developing open areas for planting trees and creating a boulevard-style theme.' There are also plans for a new cultural hub, food hall and workspace as part of a £20 million levelling up fund.
Job creation. It is expected that the regeneration work will create hundreds of jobs in the local community.
Green initiatives
As part of the regeneration, the City Council hope to create a more environmentally friendly town. There are plans to add:
Sponge Parks. These parks are designed to reduce the risk of flooding, increase biodiversity and help combat climate change.
Decarbonisation. There are plans for a sustainable retrofit of the existing building. This is to improve energy performance and reduce carbon emissions. There are also plans to install solar PV cells on rooftop spaces.
Public Consultation
The Local Council has announced that is would like the input of local residents before formalising regeneration plans.
Local people are invited to attend in person to discuss the proposals with Council officers at the former Peacocks unit between Monday 7 November and Saturday 12 November between 10 am and 2 pm each day. The council has announced that laptops will be made available for people to register their feedback. Alternatively responses can be submitted to the Council's website. The consultation will end on Friday 25 November.
Manchester City Council statement
Cllr Gavin White, Manchester City Council's executive member for housing and development, said:
"Consultation is incredibly important at the beginning of a major regeneration programme like this. Feedback and input from local people about how their local town centre works for them is invaluable.
"We have big ambitions to improve the area for this community, but this only works if the result is welcomed by the very people that use it daily.
"Wythenshawe town centre has a huge amount of potential and this investment will help improve the offer for residents and attract people to the centre as well – while also creating new jobs and new homes for the community.
"We have a real opportunity to create a town centre that benefits generations to come, so I would urge as many people to take part and take time to visit the drop-in. We really want to hear from you."

Wider regeneration initiatives
Back in June we reported the City Council's plan to acquire Wythenshawe shopping centre. This is part of the dramatic transformation of Manchester.
The plans for the Wythenshawe shopping centre are part of a wider development plan for the city. Looking ahead there are some substantial regeneration plans in the process.
Media City
Led by the Peel Group, the transformation of Media City started back in 2007. It has become the home of the BBC and ITV. The area become a hub for technology, innovation, and creativity. There are now several high rise buildings on its skyline. The regeneration scheme has created 1,000s of jobs.
New Islington
New Islington is one of Manchester's most famous regeneration projects. It now is seen as one of Manchester's trendy neighbourhoods. The regeneration includes a range of new homes, including social housing. New Islington today is a thriving community with lots of cafes and bars. This is an incredible transformation from 20 years ago where the area was mostly derelict.
NOMA
NOMA has already cost over £800million, and has transformed the heart of the city. Work for NOMA is set to be completed in 2029. NOMA has already brought over 5000 jobs into Manchester. The regeneration scheme has created lots of office space and high quality accommodation.
Spinning Fields
This project started in 1997. Since then, the area has grown rapidly and is nicknamed 'Canary Wharf of the North.' Today the regeneration continues. Many businesses are keen to move into the space due to its reputation as a world-class business hub. It is estimated that the regeneration work to date exceeds £1.5 billion.
Benefits of regeneration
Regeneration offers several benefits to the local community and the surrounding area. The key benefits include:
A better feel. Regeneration makes the area look more up and coming as opposed to outdated and depressed. The net effect is people who have a more positive view of the area are more likely to want to live in the area.
Environmentally friendly. Modern design is about positively contributing to the environment by reducing our carbon footprint.
Economic. Regeneration, creates jobs and injects money into the local community.
Stronger housing market. Research from CBRE has found that local regeneration typically boosts house prices in the area by 3.6%. Though this number varies widely depending on the amount spent on regeneration projects.
The future of Manchester
As a company, we are very proud to call Manchester our home. The regeneration initiatives in the city have been a resounding success. This is one of the reason why the Manchester property market has been the best performing city in terms of growth in the last 25 years.
In the Greater Manchester, regeneration is expected to add an estimated £10.2bn to the value of its property market.
Younger generations want to be part of this vibrant city. This demographic is mostly responsible for Manchester's growing population. This trend will continue to have a positive impact on the city's housing market.
At Esper Wealth we believe that the city will continue to perform very well for many years to come. This is why we offer several property investments in and around Manchester. In our opinion, one development stands out. This is Urban Green in Manchester. This development offers a great buy-to-let opportunity as the amenities are exceptional. The new development sits on a park with views of the Manchester skyline. Importantly the development is only 15 minutes from the centre of the city. Yet it offers affordable prices for investors seeking a high investment yield. You can access further information about this on our appropriate developments page.