Manchester's Property Market is booming. We look at the hotspots.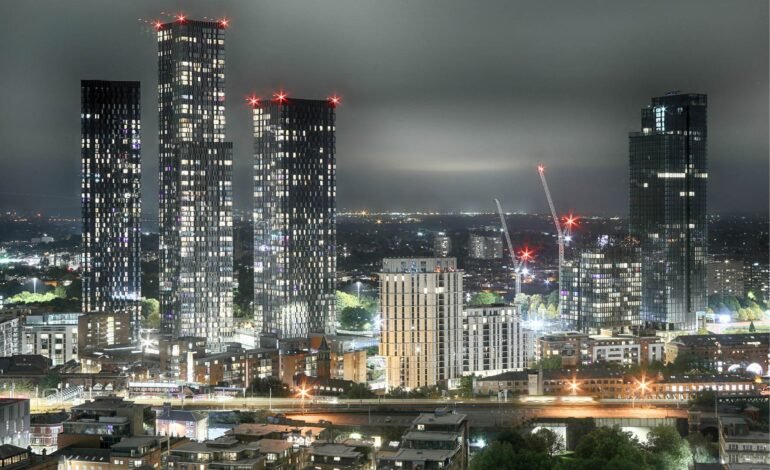 Manchester has long been the UK's best performing city in terms of house price growth. Even today, house prices are continuing to surge in Manchester and its neighbouring regions. In this article, we take a look at Greater Manchester's property hotspots.
Last week we reported that Rightmove showed house prices continued to reach new highs with the average cost of a house at £369,968 according to their metric. July is the sixth consecutive month that house prices have reached a new record high as a result of huge buyer demand and a low stock of properties available on the market.
However, for certain parts of the UK house prices retracted slightly last month. The map below shows the demand across various regions of the UK.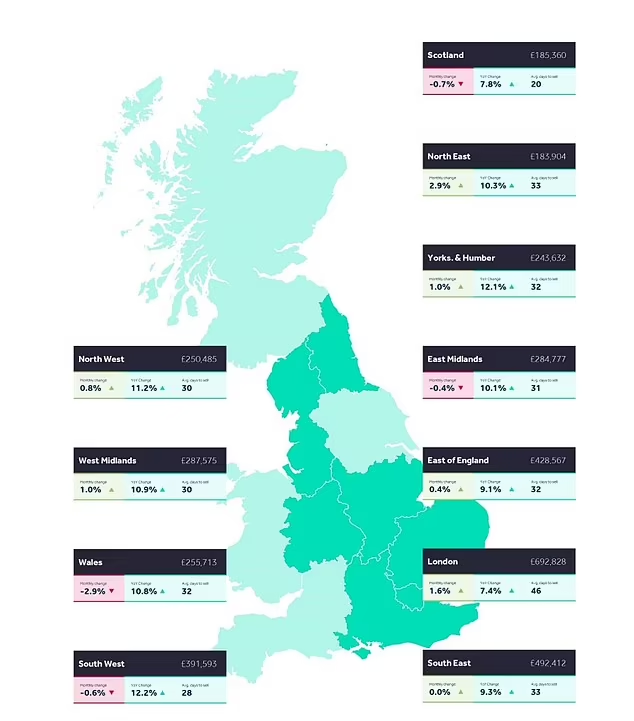 One area continued to show strong growth was the North West which includes cities such as Manchester and Liverpool.
Manchester Property Market
Manchester has long been the UK's best performing city over the past 20 years. Research by Plumbnation has collated data from cities across the UK, looking at what the average house price is now and comparing this to 2002. The research was undertaken using figures from the Office for National Statistics. It ranked the percentage difference for each city to determine where property prices have appreciated the most.
"Coming out on top was Manchester, where the cost of a property back in 2002 was just £48,845. With the standard cost of a home now £210,647, according to ONS, this means that house prices have gone up by £161,802 in the last 20 years."
The performance of Manchester's property market is nothing short of exceptional, even when factoring in inflation. "Using the average annual rate of inflation, the cost of a property in Manchester in 2002 would equate to just £84,549 today," reported Manchester Evening News.
Broughton Park
In 2021 one suburb of Manchester outperformed all others. This was Broughton Park.
Here house prices surged by an incredible 65.2 per cent in 2021. House prices in the neighbourhood increased jumped from £222,500 to £367,500 during the year.
The neighbourhood is considered a lovely place to live with bustling shops on Leicester Road combined with a beautiful park. Clowes Park offers a serene escape from city life. This park joins on to Broughton Park. The area is based close to the city centre but offers the perfect mix of suburban life.
Current Hotspots
There are several hotspots in Greater Manchester where has climbed dramatically in recent months. We take a look at these emerging hotspots.
Castlefield
Castlefield has become a hotspot in Manchester, with the average house price rising by £53,797 in the last two months alone.
The area like Broughton Park appears to have the best of both worlds by offering the perfect mix of city and suburban life. Castlefield offers canals, waterfront bars and green spaces whilst still being in striking distance of the city centre.
Rightmove puts the average price of a property in Castlefield at £324,029, which is £53,797 higher than in May. The majority of sales in Castlefield during the last year were flats, selling for an average price of £321,771.
Sold property prices in Castlefield over the last year were 17% up on the previous year and 38% up on the 2019 peak of £234,580.
Broadbottom
The village of Broadbottom in Tameside has seen house prices grow month on month as buyers have become increasingly interested in moving to the area.
The picturesque country village has a river, and stone houses with views of rolling hills and is also home to the largest woodland in the borough, making it an ideal area for semi-rural living.
Property has increased by £32,677 since May. Currently, the average property stands at £302,909.
Bowden
This affluent suburb in Trafford has been Greater Manchester's most expensive area for quite some time – but house prices in Bowdon are now higher than ever before.
In July, Rightmove recorded that the average price of a home there was £902,217. this is a massive increase of £159,113 since May.
Bowden has grand mansions with celebrity residents and is seen as one of the best places to live on the outskirts of Manchester. Detached properties sold for an average of £1,493,239 whilst terraced properties sold for £607,962.
Over the last year prices in Bowden have appreciated by 31% alone.
Hale
Hale is another affluent area of Greater Manchester that offers desirable living. Many of the city's rich and famous choose to live here. The Trafford village for instance is a popular home for Manchester United and Manchester City footballers. Hale has several upmarket restaurants and bars in the centre, as well as a bowling green.
House prices in Hale have risen by £74,708 since May. The average price of a property in the area stands at £739,402.
Manchester Forecasts
Manchester is expected to continue to lead the way concerning house price growth. This is according to property giant Savills who have placed Manchester as the top city for growth in the next five years. They also have identified the North West to outperform all other regions in the UK. The table below shows their findings.
Savills mainstream house price forecasts 2022-2026
| | | | | | | |
| --- | --- | --- | --- | --- | --- | --- |
| | 2022 | 2023 | 2024 | 2025 | 2026 | 5-year total |
| North West | 10.0% | -0.5% | 2.0% | 2.5% | 3.5% | 18.4% |
| Yorkshire and The Humber | 10.0% | -0.5% | 2.0% | 2.5% | 3.5% | 18.4% |
| Wales | 10.0% | -1.5% | 2.0% | 2.5% | 3.5% | 17.2% |
| North East | 9.0% | -0.5% | 2.0% | 2.5% | 3.5% | 17.4% |
| East Midlands | 8.5% | -1.0% | 2.0% | 2.5% | 3.0% | 15.7% |
| West Midlands | 8.5% | -1.0% | 2.0% | 2.5% | 3.0% | 15.7% |
| Scotland | 8.5% | -1.0% | 2.0% | 2.5% | 3.0% | 15.7% |
| South West | 7.5% | -1.5% | 1.5% | 2.0% | 2.5% | 12.4% |
| South East | 6.0% | -1.5% | 1.0% | 1.5% | 1.5% | 8.6% |
| East of England | 6.0% | -1.5% | 1.0% | 1.5% | 1.5% | 8.6% |
| London | 3.5% | -1.0% | 0.5% | 1.0% | 1.0% | 5.0% |
| UK | 7.5% | -1.0% | 1.5% | 2.0% | 2.5% | 12.9% |
Regeneration Areas
Last month we wrote about the dramatic transformation of Manchester in our article about regeneration. We believe that these areas will offer the best long term options for achieving capital growth in property.
Media City
Led by the Peel Group. Media City in Salford has become a hub for technology, innovation, and creativity. It has become the home of the BBC and ITV. There are now several building on its skyline which exceeds 20 levels. The scheme has created 1,000s of jobs. Moving forward, Media City will continue to receive inward investment and has already been hailed as one of the most successful redevelopment projects undertaken in the UK.
New Islington
New Islington is one of Manchester's regeneration projects. Urban Splash won the contract in 2000 to overhaul the area.
The effect has been Incredible. It now is seen as one of Manchester's trendy neighbourhoods. This is a far cry from previous generations where the area was left derelict. The regeneration includes a range of new homes. Additionally, the area incorporates social housing, encouraging a diverse population. In addition, New Islington is popular with independent cafes and bars, creating a thriving social hub. The Sunday Times even voted the neighbourhood as one of the 20 places to live in the entire country.
Spinning Fields
This project started in 1997. Since then, the area has grown rapidly and is nicknamed 'Canary Wharf of the North.' Today the regeneration continues. Many businesses are keen to move into the space due to its reputation as a world-class business hub. It is estimated that the regeneration work to date exceeds £1.5 billion.
NOMA
NOMA covers a whopping 20 acres and costing over £800 million, the scheme has transformed the heart of the city.
The plans for NOMA were announced in 2011, and work is set to be completed in 2029. NOMA has created over 5000 jobs in Manchester. It offers over 550,000 sq ft of office space. The area boasts 1 million sq ft of premium property and 200,000 sq ft of hotels for the many visitors that the city attracts.
Our View
At Esper Wealth we believe that the Manchester property market will continue to prosper. This is because many of the younger generations want the benefits of big city life but are priced out of London. Manchester has proven to be the big winner with its population rising. Industry has followed suit. Looking at the skyline in Manchester it is starting to get a London feel, with most of the largest skyscrapers outside of London being situated there. This trend is set to continue with many more developments undergoing construction.