Is Urban Green Manchester the city's best off-plan development?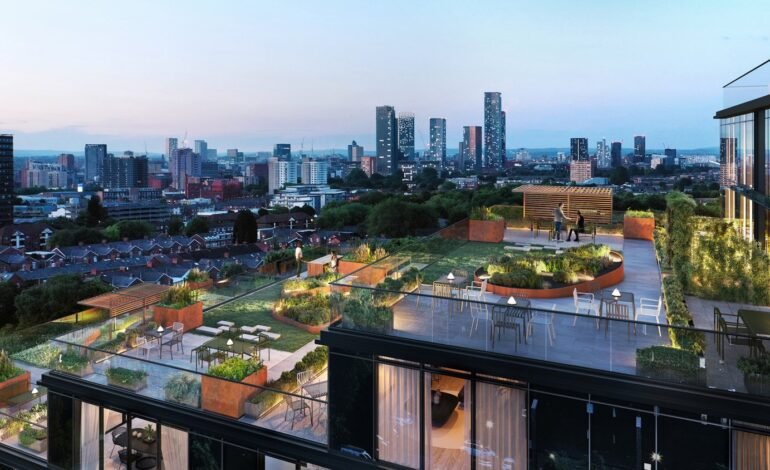 Manchester is home to several new property developments. We ask is Urban Green Manchester the best one from an investor's perspective?
Manchester Skyline
Manchester's skyline is changing. Over the past 20 years, there have been several new developments which have transformed the city centre. In 2018 Deansgate Square South Tower became the first skyscraper in the UK, outside of London, to have over 50 floors. The tower has 65 floors and has been joined by Deansgate Square East Tower and Elizabeth Tower in the over 50 club. Manchester now has the four largest towers outside of London.
Looking at a list of the tallest Manchester towers 14 of the top 18 have been constructed in the past five years. All of these towers are located in the city centre. Outside of the city centre, Salford Keys now has several towers exceeding 20 floors.
Why has it changed?
Manchester's skyline is a result of several initiatives that have been led by the city council in partnership with the private sector. These large-scale regeneration initiatives have drawn many businesses to Manchester. Many people now see Manchester as the nation's second city.
In 1996, there was an IRA bombing that destroyed parts of the city centre. This caused £250 million worth of damage, destroying many local people's jobs. Manchester Millennium Ltd project was introduced, to transform the city as part of a regeneration strategy in response to the bombing. The task force set out to build new office spaces, and improve transport as well as social housing. This was designed to rebuild Manchester's economic status.
The 2002 Commonwealth Games was another important catalyst for leading this Manchester regeneration. Inspired by the successful collaborations between the public and private sectors, many more partnerships have followed.
More recently, Salford Keys has also been regenerated and boast's an impressive skyline. This large-scale regeneration initiative was led by the Peel Group in conjunction with Legal and General Capital. The video below highlights the success of this regeneration scheme.
Effects of regeneration on the property market
There have been several other regeneration initiatives in other parts of the city. This has helped transform Manchester's property market. Manchester evening news has reported that Manchester has seen the biggest house price growth in the UK over the past 20 years. This is due to all the aforementioned regeneration of Manchester.
Manchester evening news (MEN) writes, "New research by Plumbnation has compiled data from cities across the UK, looking at what the average house price is now in 2022 and comparing this to 2002. The research, which is based on figures from the Office for National Statistics, ranked the percentage difference for each city to reveal where property prices have gone up the most."
"Coming out on top was Manchester, where the cost of a property back in 2002 was just £48,845. With the standard cost of a home now £210,647, according to ONS, this means that house prices have gone up by £161,802 in the last 20 years."
The performance of Manchester's property market is nothing short of exceptional, even when factoring in inflation. "Using the average annual rate of inflation, the cost of a property in Manchester in 2002 would equate to just £84,549 today," reports MEN.
No letting up
Despite Manchester's superb performance over the past 20 years. The property market shows no signs of letting up. Manchester and Liverpool have come out top for UK cities in the past 12 months. We recently wrote about the housing stampede in the Northwest as well as emerging hotspots in the greater Manchester area. These articles demonstrated the high demand for property in and around Manchester.
Due to the success of the property market, many first time buyers are moving into the suburbs to afford to get on the Ladder.
Manchester rental market
The Manchester rental market is very hot currently as are many parts of the UK. Zoopla puts this down to a major supply and demand imbalance. The supply of property is currently running 43% below the five-year average. This is putting tremendous pressure on rent prices.
Manchester evening news(MEN) writes, "The rise in house prices, 3% stamp duty levy introduced in 2016, and the post-lockdown demand, are all thought to have caused a lack of homes available to rent."
With changes to mortgage interest tax relief many would-be landlords have decided to walk away from property investments. This has further reduced supply.
Supply and demand imbalance
MEN interviewed Maurice Kilbride who is an estate agency owner with 25+ years of experience in the Greater Manchester property market. Maurice said: " The current situation with the rental market and rents rising at the fastest rate for 13 years is caused primarily by huge ongoing demand and a limited supply.
"This has been exacerbated by the rise in house prices forcing many would-be first-time buyers into the rental market and many potential tenants venturing back into the big cities and towns post-Covid."
Maurice continues, "The number of potential tenants for every property has increased significantly, however, similar to the sales market, there is a distinct shortage of rental stock available and I am not exaggerating when I say we have on average over 50 inquiries for every rental property we list – which of course has increased upward pressure on rents."
"Sadly, I don't see this changing anytime soon, unless we have a massive influx of private rental properties coming to the market," concedes Maurice.
Rental price inflation
The Buy Association wrote last month, "The north-west continues to see strong demand from tenants and has led the UK rental market in rent hikes. Manchester, Liverpool, and the surrounding areas are extremely popular hotspots for tenants and property investors alike."
Their article continues, "As two of this quarter's top five rental price hotspots, Manchester and Liverpool have been home to asking rents increases of 19.3% and 17.1% respectively compared to this time last year."
Best places to buy
With rising rents and energy costs, many young professionals who want to rent in the city centre are being forced slightly further out, in pursuit of cheaper rent.
As a result, it is a wise choice to look at developments that offer affordable rent. Stretford and Eccles are areas that can offer value. This means an investor will be able to command a higher percentage yield. Stretford, in particular, offers very close proximity to the city centre. This is very important for young professionals.
A new property is still preferred by professional renters as it best suits their lifestyle needs.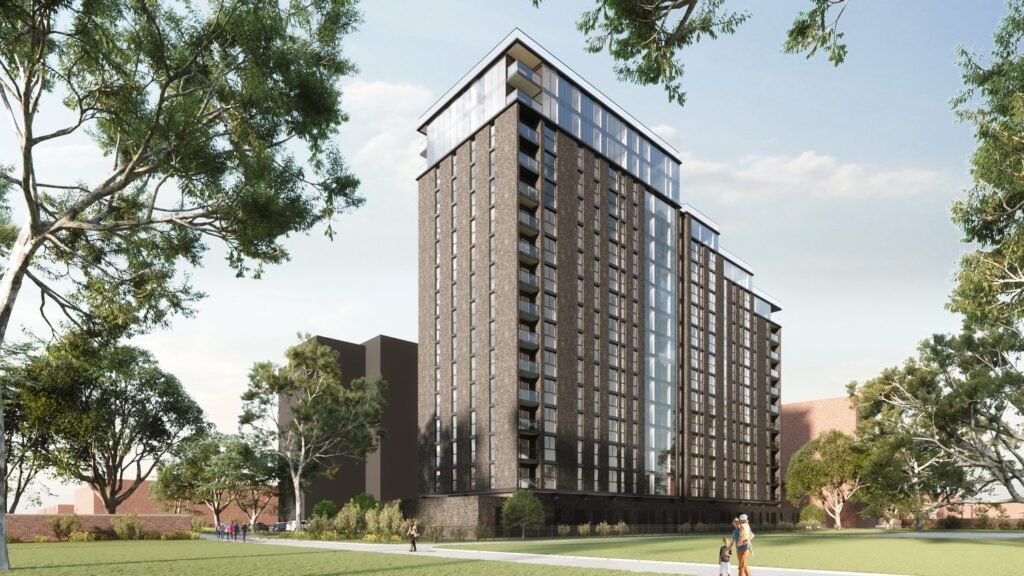 Urban Green Manchester
Trafford Plaza, Stretford, is the location for Urban Green Manchester. The development is currently under construction. It comprises 174 1- and 2-bed apartments built to a high specification at a reasonable cost.
Urban Green is designed to have a clean, modern feel, setting them apart from other nearby developments with a sense of luxury that cannot be found elsewhere in the area.
Kitchens and bathrooms enjoy a high-quality, contemporary design; living areas and bedrooms are bright, airy and open-plan to allow for a spacious living environment.
The development has a beautiful roof terrace. It overlooks Seymour Park and is within 15 minutes of Manchester Piccadilly. These are key requirements for young professionals giving them a good blend of affordable city life.
Benefits for the investor
Urban Green offers a great discount to market value, with properties starting from as little as £166,000. The relatively low asking price means there is less stamp duty to pay. As a result, investors can feel confident that their investment will see a lot of capital growth by completion in Q3 2023. The development gives a high anticipated investment yield of over 6.5%.
With Manchester set for a rise in property values and rental income by 28% and 13% respectively, the development has fantastic potential.
Limitations
Buying off-plan is always a risk as a developer could encounter problems. Our article off-plan property is it for me? explains the pros and cons of investing in off-plan property.
When buying off-plan you need to do due diligence on the developer. The Heaton Group which oversees this build is well established having been in business for over 40 years. It has completed many developments and this is why Esper Wealth endorses this development.
About Esper Wealth
We are a Manchester-based property investment company, which focuses on finding the best opportunities for investors in the UK property market.
Esper Wealth undertakes extensive due diligence before introducing investors to any development. As such, we have composed a list of important questions to ask when buying property off-plan.
If you would like further information about Urban Green Manchester or any other development then contact us are your earliest convenience.