UK property forecast 2023 – correction in the market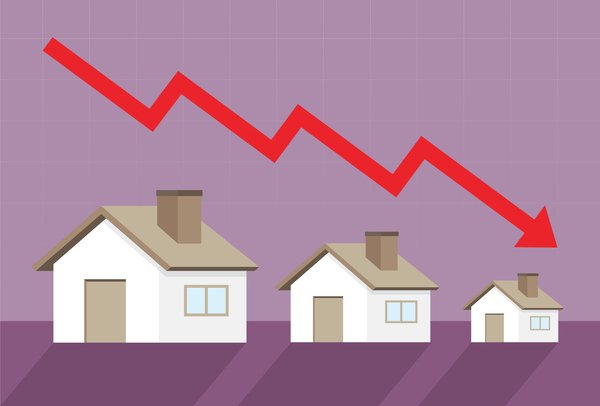 As Christmas approaches, this is the time when the major housebuilders, mortgage lenders and property portals give their forecast for the ensuing year. We look at the major players' forecasts for the UK property market in 2023. Unsurprisingly, there is an anticipated correction on the horizon, but the degree of this correction varies widely. We record these predictions and then finish the article by explaining why there is a degree of uncertainty about how property will pan out in 2023.
Backdrop
Whilst 2022 has proven to be a difficult year with the highest levels of inflation for 40 years, rising interest rates and a cost of living crisis, the property market has remained resilient. Halifax in November showed that property prices are still up by 4.7% from 12 months ago, though this is far lower than other times of the year.
November saw a house price decline of 2.3% according to Halifax's metric and the price of the average UK house stands at £285,579. This is the second month of contract having recorded a negative return of 0.4% during the month of October.
As Kim Kinnaird, director at Halifax explains "While a market slowdown was expected given the known economic headwinds – and following such extensive house price inflation over the last few years (+19% since March 2020) – this month's fall reflects the worst of the market volatility over recent months.
"Some potential home moves have been paused as homebuyers feel increased pressure on affordability and industry data continues to suggest that many buyers and sellers are taking stock while the market continues to stabilise.
"When thinking about the future for house prices, it is important to remember the context of the last few years, when we witnessed some of the biggest house price increases the market has ever seen. Property prices are up more than £12,000 compared to this time last year, and well above pre-pandemic levels (+£46,403 vs March 2020)."
The chart below shows the rolling 12-month growth in property prices over the past 12 months. As you can see throughout the spring and summer the average price was up by over 10% compared to 12 months previously. During November this figure has reduced significantly.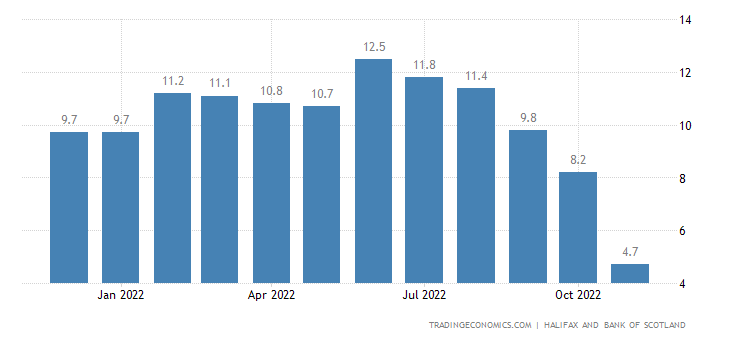 Most analysts saw the 2022 property market as a tale of two halves as positive momentum and a lack of supply resulted in properties continuously breaking new highs. However, in the second half of the year, there have been reduced buyers due to affordability issues and the market not looking as positive.
UK property forecast 2023
Halifax are particularly bearish for their forecast in 2023. The lender envisages a pull back by 8%. Whilst Credit Suisse expects a 10% correction in 2023. This is the worst scenario predicted by any player so far. Though many still have not disclosed their opinions at the time of writing.
In contrast, Rightmove has forecasted only a slight contraction of 2% in 2023. This is due to limited supplies of property on the market and many would-be movers waiting for clarification on the market before they decide to move. Interestingly, the CEO of Rightmove feels there will be a significant correction in the market but this won't take effect until 2024.
Nationwide using their metric said they recorded the biggest drop in house prices last month. They place the average value of the house at £263,788. They believe that the market will retract further in 2023.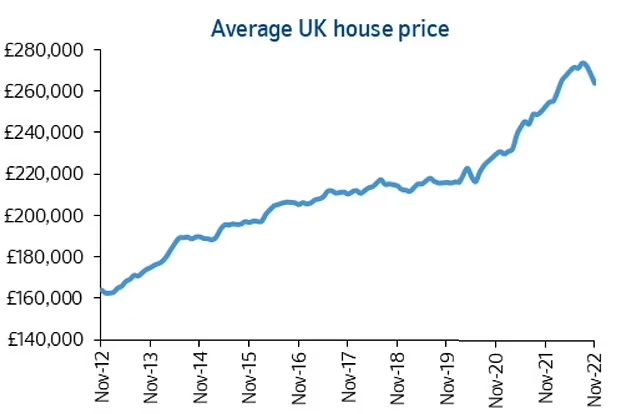 What factors are causing uncertainty in the property market?
Several factors are contributing towards a generally negative sentiment. We list the key considerations below.
Rising Inflation
Inflation is continuing to surge though it has pulled back slightly. Inflation erodes the spending power of people's wages and this means people are generally worse off unless their wages and benefits increase at the same speed.
Rising interest rates
Controlling inflation is not an easy task and there are no guaranteed ways of combating it. Though it is believed that increasing interest rates are the quickest and most significant method to bring down inflation. This is because inflation is generally caused by more demand for goods than supply. So increasing interest rates result in people paying more for credit, so they are less likely to borrow, and less likely to spend.
As most people have mortgages, as interest rates rise, they are likely to pay more for their borrowing and have less free capital to spend. Though, the effect of this is not immediate, as many people are in fixed-rate deals. The problem with increasing interest rates is that people cannot afford to meet mortgage payments. This means fewer home buyers and more forced sellers. This has the effect of causing a contraction in the housing market.
The issue for analysts predicting the property market is that they don't know exactly when investors will be forced to sell. This is one of the main reasons why there is such a large variance in the house price forecast for next year.
Credit Suisse expect interest rates to continue to increase in 2023 and into 2024. Peter Foley, an economist at Credit Suisse, said: "We expect house prices to fall at least 10% next year in the US and UK."
He added that a "global housing slump" will adversely affect growth in developed economies, including he the UK, in 2023.
There could be turmoil in the housing market if UK interest rates rise toward 5.5% by Spring as the markets are currently pricing, with most economists expecting house prices to fall.
Recession
Credit Suisse thinks that the UK is already in recession. It expects the economy to contract by 1.3% in 2023 and only grow by 0.5% in 2024. This is largely due to inflation and rising interest rates to tackle this. As people are not spending, less money is moving through the economy. This then results in increased unemployment.
Unemployment
Unemployment is expected to increase in 2023. Unfortunately, many who lose their jobs may be forced to sell their homes as well. The degree of unemployment is going to be determined by the length and depth of the recession. As inflation is difficult to control, no one knows how long the economy will be affected.
Esper Wealth UK property forecast 2023
We wrote about this back in October, where we stated that we have reached the top of the property market. We still predict a 5% correction in 2023. In real terms, this number is quite substantial as inflation will further reduce the real value of real estate.
For investors, we feel this is not a major cause for concern. Chestertons believe rents will continue to rise. This means mortgage payments can still be serviced. For investors seeking to increase their portfolio, there are likely to be more good deals becoming available in the latter half of the year. This is when it will become a buyers market.
In the longer-term we believe that prices will continue to rise. This is due to several factors.
Housing shortage. There is a severe housing shortage in the UK. The government has consistently failed to deliver on the 300,000 new homes it plans to build each year. This shortfall will get worse with time.
Home ownership aspirations. The majority of renters still have aspirations for home ownership. This demand will continuously drive prices up in the longer-term as more people are chasing homes than are currently available.
Rising rents. Although prices may retrace slightly in the shorter term. Rents are still rising. For investors this means income still attractive. So the buy-to-let investors will continue to remain in the market.