The best tips for a property franchise
Setting up a real estate company can be a big commitment. There are a lot of rules and regulations you need to be up-to-date with. One solution is to buy a franchise from an existing business. This way you can get help from an experienced team that is up to date with all the rules and regulations. Not only that, they can assist you with the day-to-day running of your business. In this article, we provide some key tips for a property franchise. This way you will select a partnership with a company that is best for you.
Is a property franchise best for you?
If you are thinking of setting up a business there are several options available to you. If you have a passion for property and feel that it is an area that you would like to work in, then a property franchise could be for you.
Once you've decided that you want to venture into the property franchising world, you're probably wondering how and where to start! Most estate agents that offer franchises will guide you on how best to start you business as well as aiding you with the day-to-day running of your branch.
Below we take a look at some of the help you would likely receive if you opted for a franchise route instead of setting up on your own.
Key benefits of selecting a property franchise
There are many benefits of having a property franchise compared to going it alone. We list the key benefits below:
Legalities
There are currently over 400 rules and regulations for landlords to contend with. Furthermore, these rules are continuously changing. As an example, there were over 50 rule changes during COVID alone. A recent article brings you up to date with the most important rule changes.
As an employer, you are also expected know employment law. As a franchisee, you will get continuous guidance to ensure you operate on the right side of the law.
Business model
Each franchise has its own unique model. Though they share various commonalities:
Most franchises offer three key revenue streams. This includes property sales, letting income, and revenue from third party professionals. For many real estate agencies, property letting represents a significant income stream. There are several franchises that make more income from letting compared to property sales. These agents have all the templates composed for contracts with landlords and tenants.
Importantly, these agents already have agreements with third part professionals so you can receive fees for third part recommendations such as mortgage brokers, surveyors, solicitors etc. This revenue stream is significant and it allows one company called Strike to sell a property without any sellers fees.
Business planning
All franchises offer help for you to manage you finances. Guidance would be on hand to ensure that you have the sufficient liquidity, and that you appropriate your budget accordingly. They will also help you select the right location according to your budget and do research to ensure that there is a big enough market for you to turn a healthy profit.
Centralised marketing
As a franchisee, you can expect help with marketing. The parent group will have deals with the leading property portals, allowing you to advertise properties online more cost effectively. Furthermore, you can expect experienced hands running only marketing campaigns via google and social media, with a larger discount due to the volume of the advertising spend.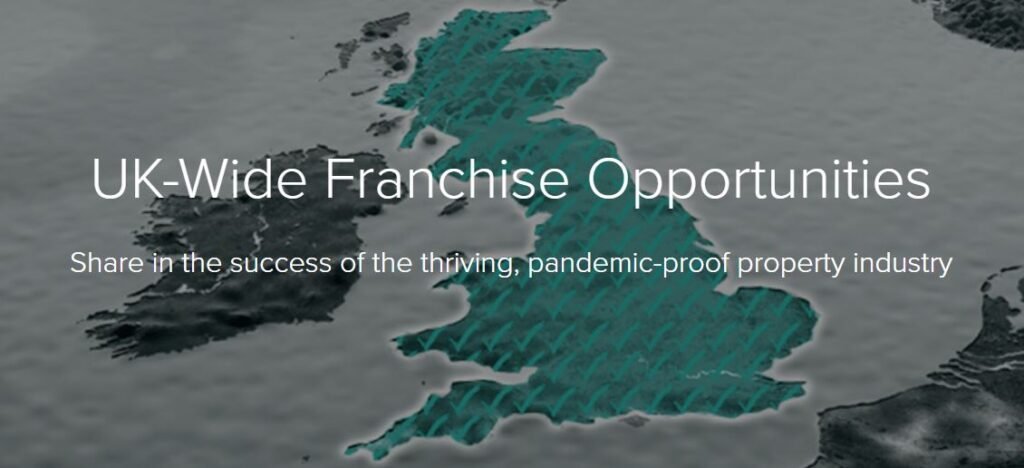 Key tips for a property franchise
When selecting the best property franchise there are several considerations. Below we highlight our key tips to finding the right property partner.
Tip 1 – Operating under an established brand
In addition to to useful business advice, an established brand can offer some additional benefits. By partnering with a company with a strong high-street presence, and a well-known name, you are likely to have a higher income in the early days of setting up your branch. This is due to the credibility of the name above the door.
An established brand can also assist you with obtaining finance (which we cover later), as well as getting discounted software and other business sundries.
Tip 2 – Undertake research
So you've decided that owning a sales and lettings franchise is for you. This is great. However, you need to do your homework. There are several options out there. Many of these options have very different business models.
Purple Bricks, for example, will give you an income without selling a property first. Though this brand is not as popular as it used to be as sellers have caught on that there is little motivation to sell a property once an agent has received fees.
Some of the largest estate agents are not flexible in the fees that they charge. So whilst it is good to have an established name above the door, it may result in your branch being expensive compared to other agents in the area. This may mean that sellers opt for someone else.
Tip 3 – Make sure fees are not too expensive
Setting up a business is costly, and it results in a business risk to you the franchisee. With this in mind, it is important to work with a company that doesn't charge too much for the use of its name. There are many companies that want your business so it is important to find the one that offers good value.
Tip 4 – Try before you buy
Some of the reputable brands allow you to go and spend time in a local branch to see how a business is run on a typical day. This way you have a better understanding of what to expect. This is an essential step before going to head office. At HQ you will get a feel of how branches are supported. This is important for identifying which franchise best suits you.
Tip 5 – Enquire about continuous training
Continuous training is something that is essential. It ensures that you have the right tools to make your franchise a success. Most real estate groups offer an extensive induction course. This is to give you full understanding of what is required for running your business.
Reputable agents will offer continuous training. This is an essential process for two reasons:
To help you to succeed.
To ensure you meet the minimum standards as an ambassador of their brand.
Before selecting which franchise you want to run with, it is important to understand how much help and guidance you are likely to receive.
Tip 6 – Financial Support
Financing your sales and lettings franchise is a big commitment. Not only do you have to pay a franchise fee, and give a percentage of your earnings to the parent organisation, but you will also be expected to demonstrate that you have enough funds to build up your business.
Fortunately, help is at hand from various agents. Many firms will introduce you to preferred lenders that will help fund some of the costs. The Head office is likely to lend a hand with managing your financials. This includes making sense of balance sheets and cash flow statements, to ensure that your business functions correctly.
Some franchisees hold several branches. Most agents are happy to show you how to expand your business through acquisition as it benefits them.
Tip 7 – Key changes
Real estate is changing rapidly. The advance in technology will impact the way people buy and sell a property. Smart contracts will dramatically change how real estate is bought and sold. As will the tokenization of real estate. By working with a company that is up-to-date with modern technology you are better placed to win business from less tech-savvy real estate businesses. Therefore, it is important to work with a brand that is poised to take advantage of the emerging real estate marketplace.
Overall
Paying for a franchise is a big financial commitment. There is a wide range of options available. It is wise to do a lot of research to select the right business model for your franchise partnership. What Franchise gives you an overview of 10 property franchises.