Will Romal's £100m Liverpool Waters scheme go ahead?
There will be a six-day inquiry to determine whether the developer's 330-home Central Docks scheme can go ahead. This inquiry will begin on 10 May as reported by Place North West.
Romal Capital, a property investment firm, wants to create the scheme at Peel L&P's Liverpool Waters.
This scheme has stalled previously, due to city council reservations about the scheme.
The city council raised the following concerns about the project:
Harm caused by infilling of West Waterloo Dock
The scheme would impinge on land earmarked in the Liverpool Waters masterplan for a public square
The proposed development contains too many one-bedroom apartments
Speaking at the time, Romal Capital's cofounder Malouf said he was "incredibly disappointed" about the city council's stance following "three years of intense engagement" with the authority. This was reported in the Liverpool Echo in January.
Appeal
After failing to agree on a way forward, Romal appealed against the non-determination of the proposals. This means the planning inspectorate will have the final say. 
The scheme is proposed on land close to Everton's new £500m stadium at Bramley-Moore Dock. Malouf believes Romal's project is a "critical component" in the regeneration of Liverpool's docklands. It would provide residential accommodation at a time of "acute pressures in the housing sector".  
The proposed scheme entails building two nine-story apartments and one four-story apartment. This will be achieved by building into West Waterloo Dock.
Malouf added: "When Everton's new stadium opens to the public in three to four years, what do we want visitors to see? A flourishing, mixed, sustainable world-class waterfront, with new homes, new parks, green spaces, and public realm for everyone to enjoy – or undeveloped barren brownfield land?"   
Romal first lodged plans for the redevelopment of plot C02 of the Liverpool Waters masterplan in 2019.  The company proposed building 643 apartments but then scaled back its plans after a refusal from the council.  
Elsewhere within the master plan, Romal has already developed Quay Central and Park Central, totalling 237 apartments.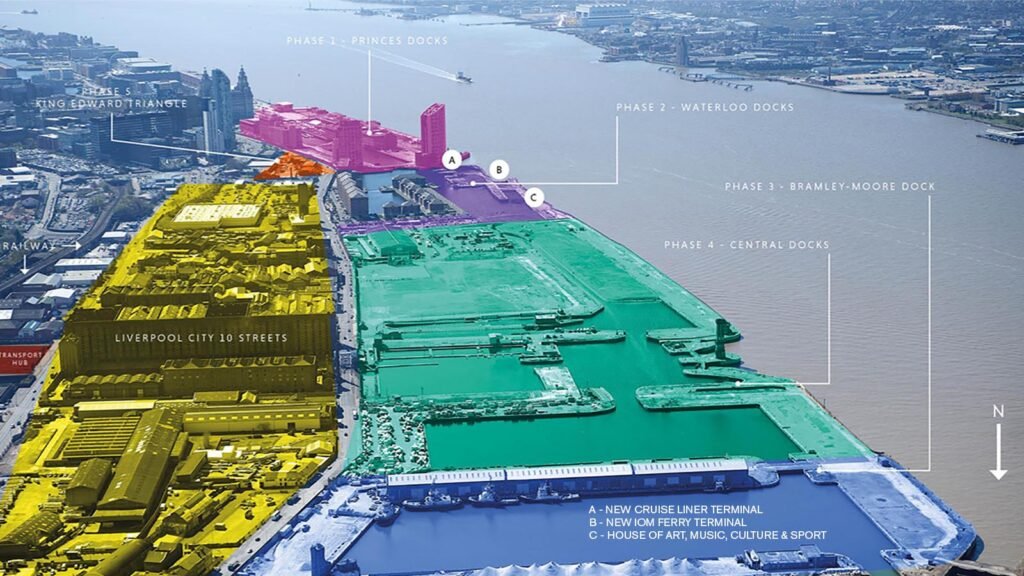 About Liverpool Waters
The Liverpool Waters scheme, is a Liverpool city council scheme, working in partnership with the private sector. The scheme will see £5 billion invested into the Liverpool Docks.
This will include the completion of the Princes Dock, with a new cruise liner terminal and hotel. There will be new residential developments and new commercial space. This will bring the number of new homes in this neighbourhood to over 600. In addition, there will be a total of 17,000 m2 of high-quality office space. Other amenities will include hotels, restaurants, bars and shops.
Central Docks will see a range of developments, adding to the already occupied 237 new homes, new link road and other infrastructure completed in the last two years. A new multi-million-pound ferry terminal to the Isle of Man is on site now, and expected to be complete in 2022.
Currently in planning, is a £100m new development, which incorporates 330 new smart homes. Several other developments of similar size are in the pipeline and set to be delivered in the coming years.
Further north, Everton Football Club has obtained planning approval to build a £500m, 52,888 seat, state of the art stadium at Bramley Moore Dock. You can find out more about Liverpool Waters here.
Regeneration and property
When investing in property it is usually good practice to identify and invest in regeneration areas. This is because in the long term your investment should appreciate more than other parts of the city; as more people are pulled into the area to take advantage of the better amenities.
At Esper Wealth, we seek early stage opportunities to invest in developments in regeneration zones with great potential for property appreciation. You can find out more about our upcoming investments on our developments page.