Property market shows signs of cooling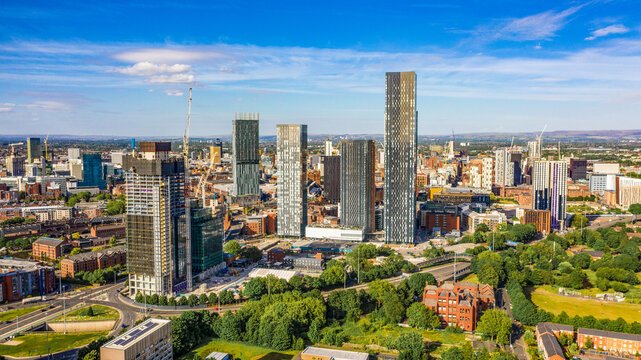 UK estate agents have reported a sudden drop-off in inquiries for new homes in May. This is according to a closely watched survey that suggests the housing market shows signs of cooling after a crazy couple of years.
The Royal Institution of Chartered Surveyors has published a report saying the net balance of buyer inquiries was down seven percent in May. This compared with plus eight percent the previous month.
The figure shows that the housing market is beginning to cool as inflation coupled with rising interest rates limit buying power. "The increase in the cost of mortgage finance alongside growing concerns about the economic outlook is unsurprisingly having an impact, albeit a relatively modest one at this point, on buyer activity in the sales market," Simon Rubinstein, RICS chief economist, announced.
Annual house price growth has remained in double digits during the past two years. This is due to several factors. These include:
desire for more space due to Covid.
Inflation kicks in
With inflation hitting 9 percent and mortgage rates increasing, many estate agents said the boom will soon come to an end. "Cost of living, inflation, the war in Ukraine, and confidence in the government are some of the factors that are contributing to doubt," William Delaney, a central London agent, said. "This is making some buyers very hesitant."
Halifax has also published figures showing house price growth remained high but slowed slightly in May, falling to 10.5 percent from 10.8 percent. Russell Galley, managing director, said the market had begun to "show signs of cooling", with mortgage activity ticking down. "With overall buying demand down compared to last year, we may be past the peak sellers' market," he said.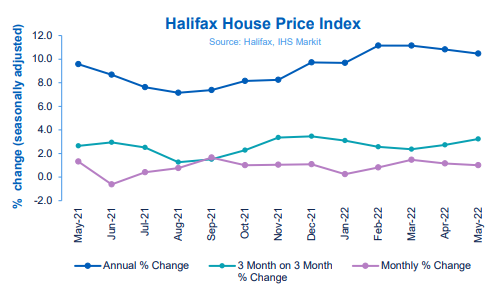 Halifax in their report commented, "The average cost to buy a home in the UK is now £289,099, hitting yet another record high. Despite the very real cost of living pressures some people are experiencing, the imbalance between supply and demand for properties remains the primary reason driving the continued climb in house prices."
Forecast
The RICS survey showed that estate agents thought prices would be "squeezed higher" by a shortage of homes. However, most agents felt that this level of growth is not sustainable, with only 42% believing that the market will be higher in twelve months.
Savills mainstream house price forecasts 2022-2026
| | | | | | | |
| --- | --- | --- | --- | --- | --- | --- |
| | 2022 | 2023 | 2024 | 2025 | 2026 | 5-year total |
| North West | 10.0% | -0.5% | 2.0% | 2.5% | 3.5% | 18.4% |
| Yorkshire and The Humber | 10.0% | -0.5% | 2.0% | 2.5% | 3.5% | 18.4% |
| Wales | 10.0% | -1.5% | 2.0% | 2.5% | 3.5% | 17.2% |
| North East | 9.0% | -0.5% | 2.0% | 2.5% | 3.5% | 17.4% |
| East Midlands | 8.5% | -1.0% | 2.0% | 2.5% | 3.0% | 15.7% |
| West Midlands | 8.5% | -1.0% | 2.0% | 2.5% | 3.0% | 15.7% |
| Scotland | 8.5% | -1.0% | 2.0% | 2.5% | 3.0% | 15.7% |
| South West | 7.5% | -1.5% | 1.5% | 2.0% | 2.5% | 12.4% |
| South East | 6.0% | -1.5% | 1.0% | 1.5% | 1.5% | 8.6% |
| East of England | 6.0% | -1.5% | 1.0% | 1.5% | 1.5% | 8.6% |
| London | 3.5% | -1.0% | 0.5% | 1.0% | 1.0% | 5.0% |
| UK | 7.5% | -1.0% | 1.5% | 2.0% | 2.5% | 12.9% |
Source: Savills research, ONS
"A lack of supply and strong buyer demand fuelled by the experience of the pandemic has turbocharged house price growth over the past two years, despite growing economic headwinds," said Lucian Cook, head of residential research at Savills.
He continued: "This, combined with the rising cost of that borrowing and cost of living pressures, leaves less capacity for further price growth, especially within markets where borrowing is high relative to incomes.
"As a result, we have downgraded our projections for 2023-2026, and as part of this, anticipate modest price falls next year as the heat comes out of the housing market. But as things stand, we see nothing that points to a price correction. Affordability will be squeezed at the point of purchase, but interest rates are forecasts to remain low within an historical context and strong employment levels should serve to protect existing home owners.
Savills forecast shows that the North of England and wales will deliver the best returns for investors seeking growth in property.
"As prices have risen, the market has become increasingly confined to more affluent households, as those on lower incomes have been priced out of the market. This sets a precedent for what might happen more widely. In the North, however, prices have not risen as significantly and affordability is not as stretched. Loan to income ratios has remained lower, meaning there is greater capacity for borrowers to take on more debt before an affordability ceiling is reached. Price growth is likely to be stronger as a result."
Rental income
Despite a slightly pessimistic outlook for property prices, estate agents showed stronger sentiment for the rental market. "Demand is still very strong leading to rental levels being bid higher and greater challenges for tenants who aren't in the position to compete for the available stock," Rubinstein added.
Savills have projected that rental income will continue to rise by a healthy rate for the next five years. But this rental growth is far slower than the last 12 months where it has rise dramatically.
Source: Savills Research
N.B. These forecasts apply to average rents in the second hand market. New build rental values may not move at the same rate.
Where should I invest?
Whilst the UK property market shows signs of cooling, there is still value to be found if you invest in the right area. At Esper Wealth we believe that investing in central locations in northern cities is a wise investment choice. With the market edging higher and the inability of many young professionals being able to get on the ladder the demand for rental properties will continue for years to come. City locations are where younger professionals choose to live as it is close to work with lots of amenities. You can find our latest city locations on our developments page.