King Kong's Return – New plans for 50 storey Birmingham apartment tower
"Chung Ying Plaza" is a proposed vertical village in the city centre witha King Kong sculpture as its centrepiece.
There are plans for a huge new apartment complex reaching 50 storeys in Birmingham, which could see Nicholas Monro's famous King Kong statue making a return to the city.
Developer Cordia Blackswan is the team behind the proposed scheme in Thorp Street, which is situated in the Southside district. Plans include 487 residential units, ranging from one bedroom apartments to high spec penthouses.
The scheme, located next to the Birmingham Royal Ballet buildings has plans for a range of amenities. This includes a cinema, a library, a games room and a garden area. There is a lounge for residents on the 48th floor with panoramic views of the city.
On the 49th floor there is a proposed restaurant and bar for the general public with panoramic views of the city. The top floor has an observation deck which will be accessible to the public.
The ground floor will have commercial units. Whilst a gym, spa and wellbeing area will be located on the first and second floors.
The skyscraper which has been designed by K4 Architects has been called "Act One" while the wider scheme including the new public realm is branded 'Chung Ying Plaza'.
King Kong Sculpture
A central feature of this will include the return of the King Kong sculpture. This used to be situated outside Birmingham's old Bull Ring Centre, before moving to other locations in the UK.
A report prepared in support of the newly submitted planning application said 'Chung Ying' was a Cantanose term which translates as 'China and England' and Chung Ying Street famously linked Hong Kong and Shenzhen in mainland China, signifying the close links between England and China.
The report stated "Chung Ying Plaza will create a memorable new destination to live, work and visit. This will be a unique and engaging new part of the city centre, characterised by an exciting new public space, with Nicholas Monro's King Kong statue as its centrepiece".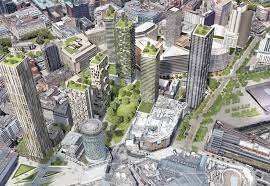 Regeneration
"The project has been funded as part of a wider master plan developed alongside other key stakeholders and seeks to create a new mini district and interconnected neighbourhoods, defined by a dynamic cluster of tall buildings that will continue to enhance the city centre and the Birmingham skyline.
This will be the first 50 story building in Birmingham. Currently, in the UK, there is only one skyscraper located outside of London which has over 50 levels. This is Deansgate Square which is located on the southside of Manchester's city centre.
Birmingham currently has several large regeneration initiatives which are set to transform the city centre. This has been named Big City which is an ambitious 20-year plan. Some of the initiatives of Big City include the creation of 1.5 million square meters of floor space and an extra 28 kilometres of enhanced walkways. It is estimated that Big City will create an extra 50,000 jobs and increase the economy by £2.1 billion each year.
With HS2 under also under construction, Birmingham has fantastic growth prospects. This is why we recently announced that we are working with developers in the city. We aim to take advantage of Birmingham's fantastic growth prospects. Find out about our most recent developments here.