Regeneration continues to surge in Manchester and Salford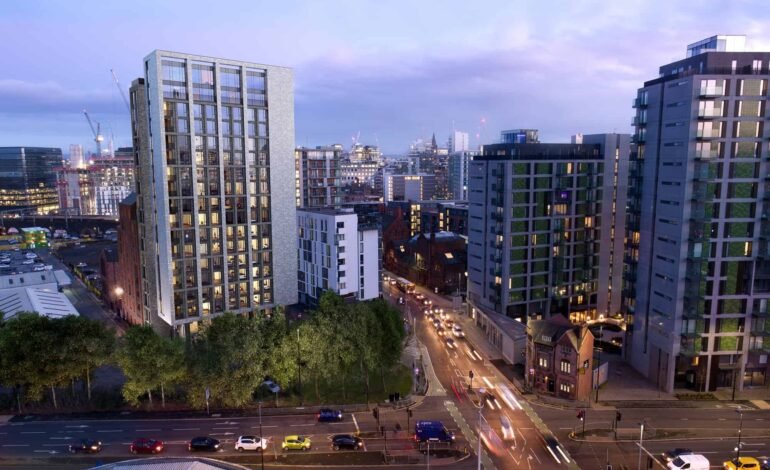 The latest results show that Manchester and Salford remain thriving hubs for regeneration. Both cities offer excellent opportunities for growth.
The latest crane survey, created by Deloitte, measures the amount of development projects taking place across both Manchester and Salford and assesses their impact. The report covers Manchester and Salford city centres.
Key findings
Deloitte report measures the developments taking place across Manchester and Salford city centres and its impact.
Property types reported on include residential, office, hotel, retail and leisure, student accommodation, education and research facilities and healthcare.
Data for the Crane Survey was recorded between 5 January 2022 and 3 January 2023
13,578 new homes completed in Salford city centre since 2014
702,000 sq. ft of office floorspace was delivered to market in 2022
25 new projects
There have been 25 new projects across various sectors began in Manchester and Salford city centres. This includes 17 new residential developments under construction. This is the highest number since 2018. Additionally, 2,734 new homes were delivered to the market.
For the unacquainted, Salford City lies inside Greater Manchester in a very central location. This is somewhat akin to the city of Westminster in London with just a couple of miles between Salford city centre and Manchester city centre.
The results demonstrated that the areas remain an attractive proposition for investors, developers, businesses and residents alike. Salford is now acknowledged across the sector "as a driving force in the region with a commitment to sustainable growth and regeneration at the heart of its approach".
Powerhouse of the north
Outside London, the region continues to lead the way in construction activity. This is driving economic growth across the two cities, as well has acting as a positive catalyst for change. The scale of development is substantial which demonstrates the resilience in the regional economy.
Residential initiatives
Salford city centre, has seen the biggest amount of development, with 13,578 homes now having been completed since 2014. The number of new projects demonstrate that construction initiatives are continuing at a frantic pace. this includes Greenhaus, which is part of a £1bn Salford Central masterplan built over 50 acres.
Commercial initiatives
In the office sector, 702,000 sq. ft of new floorspace was delivered to market in 2022, this is despite the trend seeing more people continuing to work from home. Construction levels are growing and take up of this new space is encouraging. High-quality spaces provided by the likes of 100 Embankment and New Bailey in Salford are in demand and attracting new tenants to the city.
Only last month 100 Embankment was named 'Manchester and Salford's best performing office' for 2022 with recent lettings taking the building to c.75% full with over 120,000 sq ft let.
Across the two cities, five new office projects will create 1.1m sq. ft of space, with a total of 1.7m sq. ft. currently under construction including Eden, 115,000 sq ft office accommodation, one of the most environmentally friendly offices in the UK. TLT law firm has signed a 15-year lease to take the top two floors. The building will run on 100% renewable electricity and has been designed using the UK Green Building Council's 2035 – 2050 standards.
Demographics
This growth in new homes in Salford is in tandem with a population increase of 15.4%. Population growth in both Salford and Manchester is higher than the proportional increase for England which stands at 6.6%. This illustrates that the region is a great place for people to settle in and make a home. Many people make this decision following on from studying at one of the universities. Alternatively, people choose to take up a position in one of the many new businesses now making a base in the region. We envision this trend to continue with many businesses preferring to relocate from London due to lower rental and wage overheads.
Sustainable growth
Salford City Mayor Paul Dennett said: "The results of this survey reveal our strategy for growth and regeneration in action. We are committed to developing sustainable growth in the city and this will continue in the future as we react to the growing needs of residents and businesses.
Next, we look to MIPIM as we to further share the Salford story and enact our bold approach and new shared visions for two of our key town centres; Eccles and Swinton. This will see redevelopment extend beyond the recognised areas of the city centre and Media City and deliver economic growth shared out across the city."
Salford City Council Chief Executive Tom Stannard said: "These results are pleasing to see, but to those in the city and everyone focused on delivering growth for the city, they will not be a surprise. We have a plan for the city and are putting it into place. The positivity highlighted in this report have come over time and a commitment to a joint approach we have developed across Salford. We continue to work closely with city partners and developers to hopefully bring more growth and success in this area."
Other regeneration initiatives
Last June we reported the City Council's plan to acquire Wythenshawe shopping centre. This is part of the dramatic transformation of Manchester.
The plans for the Wythenshawe shopping centre are part of a wider development plan for the city. Looking ahead there are some substantial regeneration plans in the process.
Media City
Led by the Peel Group, the transformation of Media City started back in 2007. It has become the home of the BBC and ITV. The area become a hub for technology, innovation, and creativity. There are now several high rise buildings on its skyline. The regeneration scheme has created 1,000s of jobs.
Spinning Fields
This project started in 1997. Since then, the area has grown rapidly and is nicknamed 'Canary Wharf of the North.' Today the regeneration continues. Many businesses are keen to move into the space due to its reputation as a world-class business hub. It is estimated that the regeneration work to date exceeds £1.5 billion.
New Islington
New Islington is one of Manchester's most famous regeneration projects. It now is seen as one of Manchester's trendy neighbourhoods. The regeneration includes a range of new homes, including social housing. New Islington today is a thriving community with lots of cafes and bars. This is an incredible transformation from 20 years ago where the area was mostly derelict.
NOMA
NOMA has already cost over £800million, and has transformed the heart of the city. Work for NOMA is set to be completed in 2029. NOMA has already brought over 5000 jobs into Manchester. The regeneration scheme has created lots of office space and high quality accommodation.
Regeneration is the Key to growth
Manchester and Salford have outperformed every other region in the UK over the past 20 years. This in mainly down to large scale regeneration initiatives which commenced shortly after the IRA bombings on the early 1990s.
Today Manchester and Salford look a million miles away from that era. The vast majority of skyscrapers in the UK that are outside of London are situated in Manchester and Salford. This has help create a big city feel.
However, unlike London prices are still attainable for many investors. This is one of the main reason why we believe these two areas will continue to attract inward investment which will ensure that the property market continues to outperform other cities across the UK.