Is the Manchester student property market a great investment?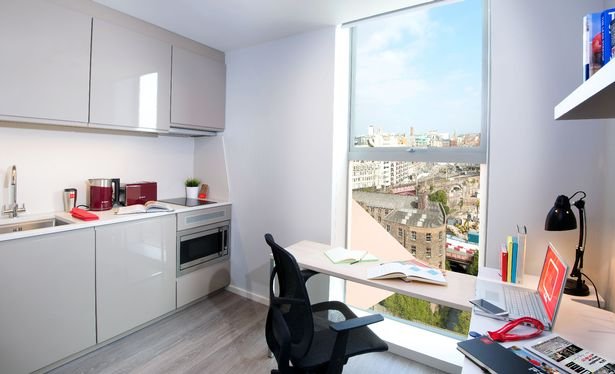 We lift the lid on the Manchester student property market and evaluate whether it represents a great investment opportunity for savvy investors. This involves looking at the current key trends and figures, as well as projections for the future.
UK student facts and figures
We start this article off by looking at the overall figures for students in the UK, before specifically turning our attention to Manchester specifically.
The table below shows then key figures for student enrolment in the UK.
Student figures by numbers
Undergraduate: 1.94 million
Postgraduate: 0.71 million
Full time: 2.10 million
Part time: 0.55 million
Students from the UK: 2.07 million
Students from the EU: 0.15 million
Students from non-EU countries: 0.44 million
In 2020–21, there were 2.66 million students studying at UK higher education providers.
There is a major housing shortage of suitable accommodation for students nationwide. This is due to escalating student enrolments over recent years. Two years ago Savills projected that the student undergraduate population would continue to rise. As you can see from the chart below they correctly identified the trend but underpredicted the actual enrolment figures.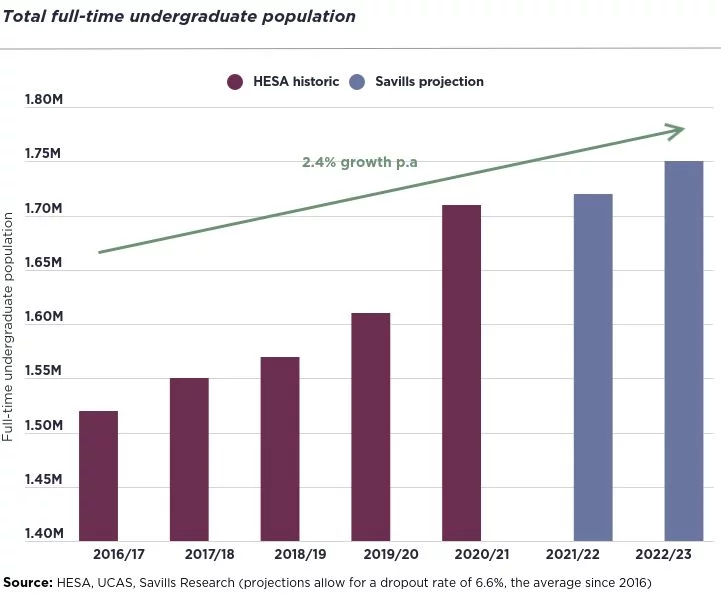 This increased level of students means that there is a shortfall of student accommodation nationally as the market struggles to cope with demand.
What is student accommodation?
Student accommodation can effectively be split up into three main elements; halls of residence, student HMO's and purpose built student accommodation.
Halls of residence
Halls of residence are the typical first-year accommodation. This involves students living on campus in communal rooms with shared kitchen facilities. Often the accommodation is subsidised as the university owns the facilities.
Typically, this accommodation is quite central, though this is not always the case.
Student HMO's
Student houses of multiple occupancy are traditional house shares where the rent is divided amongst the students. Typically, this type of arrangement is considered a little outdated by many students. These house shares often have a number of smaller rooms with limited amenities.
Student HMOs create a vision of an old style terrace house located a couple of miles away from the campus.
Purpose built student accommodation
For those who have not heard of PBSA, it stands for 'purpose-built student accommodation'. This is property which has been built specifically for students. PBSA projects are funded exclusively by the private sector. They are very similar to halls of residence except they are built to a higher standard, offering students a better quality of amenities.
This type of accommodation consists of several self-contained units, but with many communal facilities. Shared facilities include a communal kitchen and living spaces. There are working hubs, with good Wi-Fi and much more. Top end PBSA often offer facilities such as a gymnasium and a media room for their shared tenants.
Like student halls of residence these building tend to be quite central and they typically plug the gap left by the limited number of halls of residence.
How big is the Manchester student property market?
There are two universities in Manchester. Both of these universities are large. The University of Manchester is the second largest university in the UK by student population size (excluding the Open University). It houses 40,000 students. Manchester Metropolitan University holds 32,000 students. Then there is the University of Salford, whilst it is theoretically in a different city it is in effect central Manchester too. The University of Salford houses 21,000 students. So that is collectively over 90,000 students in the city.
How big is the student population compared to population overall?
The City of Manchester has a population of just under 600,000 people. Whilst Greater Manchester has a population over over 2,000,000. Like other larger cities, students like to live within a close distance to the city centre. This may not mean walking distance, it does though mean either a short tram or bus commute. With this in mind, the practical population is closer to 900,000. This makes students 10% of the population.
Crisis point
The current Manchester student property market is in crisis. At the end of November the Manchester Evening News stated that it was at crisis point. They stated "There are 4,000 more students than there are rooms available in halls of residence, shared houses, and private purpose-built student accommodation, new data seen by the MEN from StuRents, a student property search site, shows. That's a gap of seven per cent."
Worse still, "four in five newly-built student rooms cost more than the average maintenance loan. Of all student accommodation in the city, 37 percent of rooms are out of reach to the average student".
Michael Rainsford, the co-founder at StuRents explains, "Universities should be providing transparent information to prospective students before they apply on the supply and affordability of housing – not just for halls but for private housing too – so they can be sure of somewhere to live throughout their degree. We also need to up the supply of affordable student homes in Manchester."
Rising trend
This shortfall is expected to increase. This is due to extra students wishing to study nationally as well as Manchester being seen as a great city to study in. To compound matters the city has a shortfall of student accommodation being built to accommodate for this increasing demand.
Is student accommodation a good investment?
As an investor, student accommodation offers a very attractive investment yield. There are effectively two separate options. One is the Purpose Built Student Accommodation and the other is Student HMO's. Both of these options have their advantages.
Pros and cons of purpose built student accommodation (PBSA)
PBSA offers several advantages. The biggest ones are as follows:
High Yield. PBSA delivers an average return of 7.8%.
Safe investment. Most PBSA have full occupancy. Nationally rates are over 94%.
Rent rises with inflation. As students have a 1 year contract rents rise on a yearly basis.
No stamp duty. As PBSA is commercial property and is often small if is below the threshold for stamp duty tax.
Preferred accommodation. This is often students preferred investment choice.
Hands off investment. A management company will source tenants and oversee the day to day running of the property
Rental guarantee. Frequently, developers offer 5 year rental guarantees.
For more information on the benefits of PBSA you can read the 10 top reasons to invest in PBSA. It should be noted that PBSA has its limitations as well. the key drawbacks are:
Difficult to obtain mortgage finance. This means you can't leverage your returns.
Smaller market to sell. As PBSA can only be used by students the only buyers are investors. This means selling may take longer to achieve the best price.
Slower growth. Generally PBSA doesn't appreciate as fast as other property so clients looking for maximum capital growth should select other options.
Pros and cons of student HMO's
There are various advantages with student HMO's. We list the key benefits below:
More students for your money. HMOs tend to have a lower price point than PBSA as owners can rent out individual rooms to multiple tenants.
Higher income security. If one tenant drops out, you still have income from other tenants to fall back on.
Accepted for mortgage finance. Unlike PBSA, Student HMOs qualify for mortgage finance. This means an investor can borrow against their property to potentially achieve better returns.
Compared to other forms of property there are disadvantages as well. The key drawbacks are:
Investors' legal duties. When The Licensing of Houses in Multiple Occupation Order 2018 came into force on 1st October 2018, more properties need to be licensed for the protection of their tenants. This means increased legal responsibilities for landlords.
Higher upkeep costs. HMOs tend to be older and of lower quality. This means more maintenance costs.
Lower demand. Students are expecting more from their accommodation. PBSA offers a better quality of living.
No building management. Student HMOs are generally more of a hands-on investment, requiring the investor to personally manage any issues or outsource this to an agent.
If you would like further information on the best option for student accommodation to invest in then click the enclosed link.
Summary
The Manchester student property market is a great place to invest. Nationally student accommodation offers higher yields compared to long-term tenants. PBSA is best for investors seeking a safe hands off investment. Whilst student HMO's are better for investors seeking more aggressive returns on capital.
Manchester has a high student demand due to three major universities coupled with a shortfall of relevant accommodation. This means investors will likely to outperform returns achieved for students in other towns and cities. This makes it a fantastic investment choice.
If you would like to know more about your investment options then contact a member of our team today.